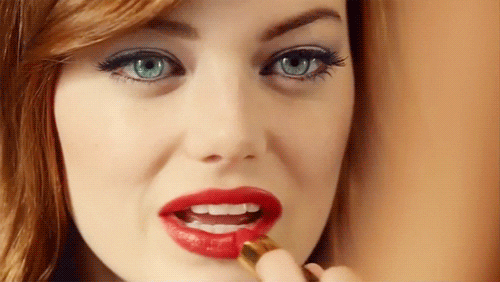 What is it about the name of a lipstick that can be so intriguing? Or is it, in fact, intriguing at all? Does the word "Berrylicious" make us excited to be berry-like? And if it doesn't taste like berries then what is it about the word that makes it better than "purple"?
Well, I'm sure there's some solid sense behind this conundrum, so let's breeze through these beauties and decide which ones work and which ones fail miserably.
Burgundy Wine: I get it. Wine is classy and sophisticated and burgundy is the color. I suppose this one has two thumbs up.
*The happy astronaut agrees!*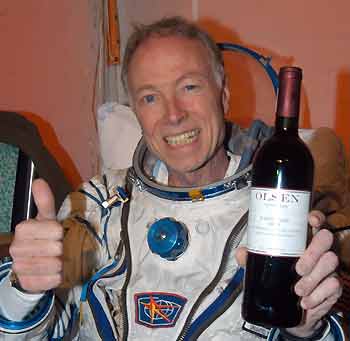 But Charmed? If you told me the lipstick's color was charmed without letting me see it, that tells me it could be blue! Or sparkly! Like a magic spell, you know?
*Like this!*
In fact, Decadent, Dream Catcher, Fiesta, Glam, Gotcha, Seductive, and Vivacious are all silly adjectives, nouns, or phrases that make no sense in the world of lipsticks. Oh silly lipstick-labelers! At least keep seduction in the typical realm of red, amiright?
*Seduction being for married couples, of course!*
As for Honolulu Pink, Impatient Pink, Raspberry, Red Fox and Mauve Madness, I'll let it slide. Honolulu doesn't really provide much idea of color here, and being impatient may be seen as adorable as this color to some lovey-dovey admirers, but it's a little far-fetched. As for Red Fox? Well done. Raspberry? You look like no raspberry I've ever seen.
*The correct way for a raspberry to look. The correct way for a raspberry to be eaten.*
And on we go to colors with two decades in between…
Serious question: Why is 1991 so much cooler than 2011? Literally and figuratively. The colors are lighter, softer, and less obnoxious. Were we psychedelic martians in 2011? The lipsticks used by '80s Jenna Rink and the 6 Chicks in 13 Going On 30 seem a much better era for the 2011 Exclusive Colors than actual 2011. Just my opinion.
Except Hot Berry. I appreciate Hot Berry. Other than that, even our names have devolved! Sure, we have fun names now like Atomic Pink and Cosmic Lily but what does that mean? Personally, I'd prefer to stick with Rose and Burnt Red. Also, the classic Red can never go wrong.
Now some of these I can deal with. Pink Pop? It is a pop of pink perfection! Fuchsia Fun? Well it's fuchsia. And it's fun. I get it! Magnified Mauve means the mauve is intensely magnified, yes! Never So Nude? Well, it's quite a nude shade. I'll go with it. Divine Wine is classy, wine-like, and therefore divine. Brilliant Berry looks more like a berry and sounds better than "Berrylicious" if you ask me. Powerful Plum is the color of actual plum, thank you! Kick Up Coral looks like coral, who'd have thought? And lastly, Mocha Madness may not seem mad but at least it is indeed mocha.
There you have it. I don't know why the logic to lipstick labeling seems so ridiculous at times, but now you have my two cents… because I know you really wanted my opinion.
You're welcome!
Cover Photo Credit: Indulgy